Pep'trchek was a bushi nezumi of the Crippled Bone Tribe. He became the Chieftain of his tribe.
Chasing the Ratslayer
Edit
Daigotsu Manobu, known as M'atch-tek'ch, Tomorrow's bushi, or the Rat Slayer, was one of the most hated Lost for any nezumi. Pep'trchek promised two seasons of cooked meat and fine furs to any Ratling who would deliver M'atch-tek'ch's severed head to him. [1]
Chieftain
Edit
Pep'trchek became the Chieftain of the Cripple Bone [2] after the previous chief, Te'tik'kir, died in the Battle of One Tribe. [3]
Tomorrow
Edit
Pep'trchek fought Tomorrow [4] in the Battle of Tomorrow and became trapped in Yume-do. [5]
See also
Edit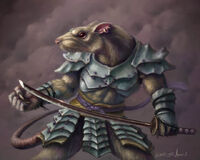 External Links
Edit
References
Ad blocker interference detected!
Wikia is a free-to-use site that makes money from advertising. We have a modified experience for viewers using ad blockers

Wikia is not accessible if you've made further modifications. Remove the custom ad blocker rule(s) and the page will load as expected.