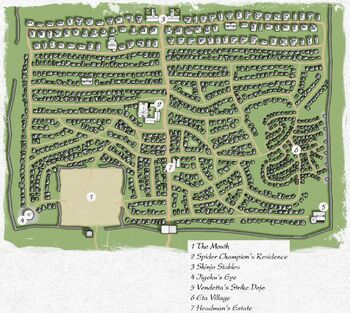 The Peasant District housed the peasants of the Second City. The herbalists could be found there. [1] The Mouth was the name of the its main entrance. [2]
Function
Edit
Located in the southern part, the general state of this district was vastly improved by the presence of several Unicorn Clan holdings, primarily stables. [3] The area was sometime referred as the "Southern District," and was the part of the city dedicated to receiving raw materials such as stone and lumber. Samurai on watch duty were ever present when it was built, and merchants began to build tea and noodle houses there. The Imperial Governor of the Colonies Ikoma Katsuru decided to place the majority of Spider Clan holdings in the Southern District. [4]
Siege of the Second City
Edit
The gate in the city walls between the Peasant and the Imperial Districts was instrumental in the fate of the Siege of the Second City. [5]
Dark Naga Assault
Edit
In 1199 Dark Naga forces assaulted the city, and Askett led the serpents against the Peasant District. [6] The peasant district was gone, the flames consumed everything. [7]
Notable Locations
Edit
External Links
Edit
References
Ad blocker interference detected!
Wikia is a free-to-use site that makes money from advertising. We have a modified experience for viewers using ad blockers

Wikia is not accessible if you've made further modifications. Remove the custom ad blocker rule(s) and the page will load as expected.