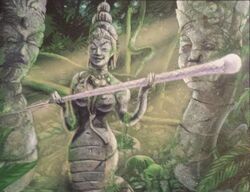 Pearl Staff was a long wooden staff heavy at one end and covered in countless, evenly spaced knobs, caused by pearls that had been worked into the wood. The staff had been made by the Naga to combat heavily armored oni, in the hands of the Naga Slayers. [1]
References
↑ Complete Exotic Arms Guide, p. 89
Ad blocker interference detected!
Wikia is a free-to-use site that makes money from advertising. We have a modified experience for viewers using ad blockers

Wikia is not accessible if you've made further modifications. Remove the custom ad blocker rule(s) and the page will load as expected.