Pearl-Encrusted Staff of the Cobra 
Created by:
Unknown
First used by:
Unknown
Currently in the possession of:
Spider Clan
Nemuranai
The Pearl-Encrusted Staff was a Naga artifact of the Cobra Bloodline.
Badge of Authority
Edit
The staff could only be wielded by the Qamar, the Shahadet, or a Naga Jakla. [1]
Discovered
Edit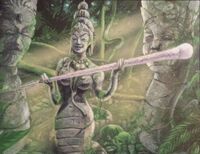 The Phoenix found the staff and Ashlim explained to them which it was. [citation needed]
It was later recovered once again and given the the Spider Clan for protection.[2]
External Links
Edit
References