Peafowl was a flying bird specie which the male, called peacock, was well known for its extravagant eye-spotted tail, which it displayed as part of courtship. The female was called peahen.
On watch
Edit
They were trained in the Burning Sands as keepers, and when an intruder passed nearby they made their characteristic noise, advising its owner. [1]
External Links
Edit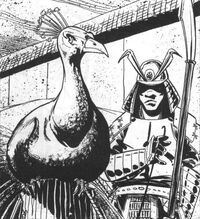 References
Ad blocker interference detected!
Wikia is a free-to-use site that makes money from advertising. We have a modified experience for viewers using ad blockers

Wikia is not accessible if you've made further modifications. Remove the custom ad blocker rule(s) and the page will load as expected.