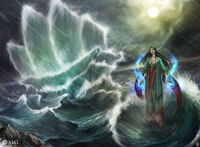 Path of Suitengu was a Mastery 5 Multi Element spell which used the Water and Air elements. It allowed the shugenja to submerge himself in any body of water large enough to accommodate him and reemerge from any body of water far away. The shugenja might allow other individuals to follow him through the water. [1]
External Links
Edit
References
↑ Way of the Shugenja, p. 59
Ad blocker interference detected!
Wikia is a free-to-use site that makes money from advertising. We have a modified experience for viewers using ad blockers

Wikia is not accessible if you've made further modifications. Remove the custom ad blocker rule(s) and the page will load as expected.