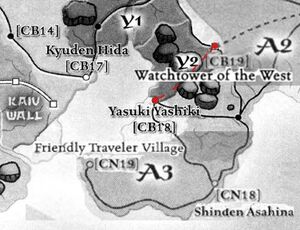 Path of No Man was the road that connected Yasuki Yashiki (CB18) to the Watchtower of the West (CB19). This route traveled directly through the mountain range north of Yasuki Yashiki, and was hard to spot even by experienced climbers. The route ultimately ended at the base of the mountains near Watchtower of the West. [1] The Yasuki constantly made sure outsiders were aware just how treacherous the mountains were to ensure the pass was never accidentally discovered. [2]
References
Ad blocker interference detected!
Wikia is a free-to-use site that makes money from advertising. We have a modified experience for viewers using ad blockers

Wikia is not accessible if you've made further modifications. Remove the custom ad blocker rule(s) and the page will load as expected.