A Parangu was a machete which was not made of the intricately folded steel of a katana. A katana could easily break a parangu in combat. [1]
Parangu was a short blade with a wide tip, used to clear brush and weeds from land for farming or building. The Mantis Clan's sailors adopted it as both a weapon and a tool to cut rope with while sailing. [2] The weapon was particularly popular among the Tsuruchi Bounty Hunters, who used it as both a tool and a back-up weapon for when their bows were unavailable. [3]
External Links
Edit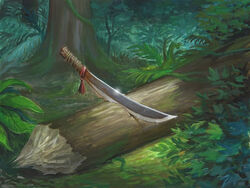 References
Ad blocker interference detected!
Wikia is a free-to-use site that makes money from advertising. We have a modified experience for viewers using ad blockers

Wikia is not accessible if you've made further modifications. Remove the custom ad blocker rule(s) and the page will load as expected.