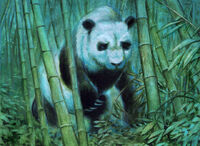 Pandas were solitary creatures with distinctive black-and-white patches in its thick fur coat. They lived in mountainous regions, close to bamboo forests, their favorite food. [1] Pandas in Rokugan were rarely ever in captivity, and left to roam the wild freely. [2] The presence of Panda spirits was the greatest of good omens. [3]
See also
Edit
External Links
Edit
References
Ad blocker interference detected!
Wikia is a free-to-use site that makes money from advertising. We have a modified experience for viewers using ad blockers

Wikia is not accessible if you've made further modifications. Remove the custom ad blocker rule(s) and the page will load as expected.