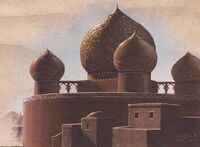 The Palace of Wonders [1] was the residence of the Caliph of Medinaat al-Salaam.
Location
Edit
It was located Northeast of the center of the Jewel, and was considered the peak of the Burning Sands builders. It was the administrative center of the city and the residence of the Caliph and Sultan. Near the Palace were the estates of the Houses of Dahab, and near these buildings was the quartets of the Senpet Garrison. [2]
Ostentatious
Edit
The walls were covered with works of art, precious metals, gems, and exotic fabrics. Servants, guests, guardians, and bureaucrats were everywhere. [3]
Palace locations
Edit
References
↑ Desperate Prayer (LBS - The Awakening flavor)
↑ Legend of the Burning Sands Roleplaying Game, p. 87
↑ Legend of the Burning Sands Roleplaying Game, p. 96