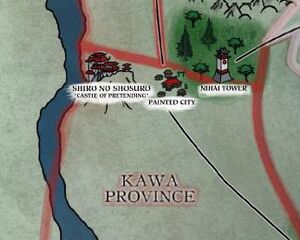 Painted City in the Kawa province [1] was a small Scorpion city surrounding the Shosuro Butei Academy, between Shiro no Shosuro and Nihai Tower. The entire city was a big theater, being each resident a student who played a role defined by his sensei, a role which changed each season. Every year the structures within the city changed as well, further amusing repeat visitors. The city was one of the safest locations in Scorpion lands. Shosuro assassins who studied there were the silent guardians. [2]
Destroyer War
Edit
In 1173 during the Destroyer War the area was invaded by the forces of Kali-Ma. The Academy was razed to the ground. [3]
References
↑ The Atlas of Rokugan, p. 159
↑ Secrets of the Scorpion, pp. 35-36
Ad blocker interference detected!
Wikia is a free-to-use site that makes money from advertising. We have a modified experience for viewers using ad blockers

Wikia is not accessible if you've made further modifications. Remove the custom ad blocker rule(s) and the page will load as expected.