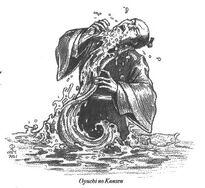 Oyuchi no Kansen were the lesser Elemental Terror of Water.
Appearance
Edit
Oyuchi no Kansen were the spies and assassins of the Lesser Terrors. They were puddles of water but could quickly animate and slay a foe. They hiding within corpses to move unseen and unnoticed. [1] If they served the Dark Oracle of Water well enough, Oyuchi no Kansen were granted the power to become a true Mizu no Oni, the Greater Terror of Water. [2]
See also
Edit
External Links
Edit
References
Ad blocker interference detected!
Wikia is a free-to-use site that makes money from advertising. We have a modified experience for viewers using ad blockers

Wikia is not accessible if you've made further modifications. Remove the custom ad blocker rule(s) and the page will load as expected.