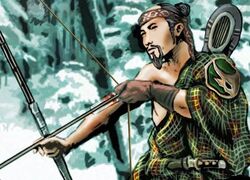 Ox Sentries were a group that combined the functions of scouts, guardsmen, and magistrates into a single occupation. They occupied a series of fortifications that secured the clan's borders with the Dragon Heart Plain. [1]
Kolat and Sentries
Edit
The Ox Clan was deeply infiltrated by the kolat conspiracy. A position as a sentry indicated either he was a trusted Kolat agent tasked with securing the provinces around the Hidden Temple, or he was an idealist who had not been recruited, and thus was assigned to a region far away from any of the Ox's more valuable holdings, ensuring that he remained ignorant of the Clan's true activities. [1]
Known Technique
Edit
External Links
Edit
References
Ad blocker interference detected!
Wikia is a free-to-use site that makes money from advertising. We have a modified experience for viewers using ad blockers

Wikia is not accessible if you've made further modifications. Remove the custom ad blocker rule(s) and the page will load as expected.