Otomo Yoroshiku was the niece of Hantei XXXVIII, the only heir to the Imperial Throne besides the young Emperor's son. [1]
Yoroshiku's mother was a Lion, who married to a Hantei. [2]
Demeanor
Edit
Yoroshiku was lovely, impulsive, and spirited. She used to incite her suitors to show off, playing one against the other, and attempting to capture everyone's heart. [3]
Eligibility for marriage
Edit
Her uncle announced she would be elegible for marriage during the Setsuban Festival held at Ki-Rin's Shrine. The seven Great Clans sent samurai in attendance interested in a political connection with the Hantei. [4] Yoroshiku would stay the winter at Shiro Gisu, in the Asako winter court hosted by Asako Kagetsu in 1121, spending time among the young men who seek to court her. [3] She came with her three maidservants, Kitsu Saia, Kakita Nantoko, and Hida Yauta, her personal nanny since she was born. [5]
Asako winter court
Edit
Many suitors attended the winter court, and Yoroshiku played with many of them. During an improptu poetry constest Shiba Himitsu accused Yoroshiku was not of the imperial line. [6]
Kidnapped
Edit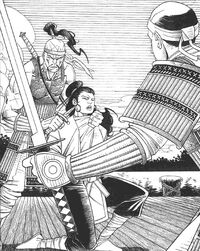 In 1122 [7] she was kidnapped by a band of ronin led by a man named Niban while attending the winter court. [8] It was believed Niban did it so he could marry her and become a true samurai once more. She was rescued at the Battle at Nightingale Village. [9] Yoroshiku had been kidnapped by Niban's lieutenant, Tobuko, [10] and Niban did not know it before the enemy army was arriving to the Nightingale Village. [11]
True Lineage
Edit
During the time Niban threatened her life, he told a history, that Shinjo Gidayu had had an affair with Otomo Jiko, and they had had a daughter, Yoroshiku. This event was what led Niban to become a ronin, because he had learned it sixteen years ago. His lord Gidayu requested him to commit seppuku to keep the secret, but Niban escaped. [12]
Winter Court - 1123
Edit
After she was released, Yoroshiku married, and they attended winter court at Kyuden Seppun in 1123. [13]
See also
Edit
References
Sources Conflict
The sources relating to this article are in conflict with each other.
In the synopsis of the events surrounding Nightingale Village in Way of the Wolf, Yoroshiku's name is misspelled "Yorishiko".
Ad blocker interference detected!
Wikia is a free-to-use site that makes money from advertising. We have a modified experience for viewers using ad blockers

Wikia is not accessible if you've made further modifications. Remove the custom ad blocker rule(s) and the page will load as expected.