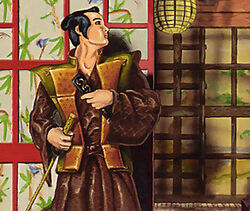 Otomo Motoshi was a Courtier of the Otomo family.
Courtier
Edit
Motoshi was a functionary, well educated on a variety of subjects, and thus quite easy to engage in interesting conversation. He was a friend of Doji Tanitsu. [1]
Kyuden Seppun
Edit
After the Fall of Otosan Uchi he was stationed on Kyuden Seppun. [1]
External Links
Edit
References