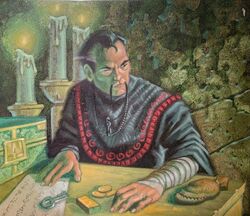 Otomo Ishihama was an Imperial bureaucrat of the tertiary office of the minister of military affairs.
Watchful Eye
Edit
When Isawa Sezaru was given the power to root out traces of maho and destroying it by the Emperor, it fell to Ishihama to ensure the power was not misused by Sezaru or his men. [1]
Destroyer War
Edit
In 1172 Ishihama took the report Miya Nishio passed to the ministery regarding the disastrous Destroyer War in the southern front. Seppun Tanizaki highlighted the loss of lifes and their effects in the future years of the Empire. [2]
External Links
Edit
References
Ad blocker interference detected!
Wikia is a free-to-use site that makes money from advertising. We have a modified experience for viewers using ad blockers

Wikia is not accessible if you've made further modifications. Remove the custom ad blocker rule(s) and the page will load as expected.