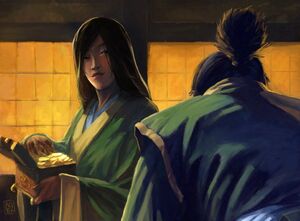 Otomo Demiyah was a courtier-ko of the Imperial Families.
Imperial City
Edit
In 1199 Demiyah witnessed Phoenix displays at Imperial Court representing different incidents that had occurred during P'an Ku's madness. [1]
Caring for her Lord
Edit
This year during Imperial Winter Court her lord Otomo Taneji was killed by an oni. He was succeeded by Otomo Terumoto, who suffered fever dreams for weeks. Because of the oni's strange powers, it was possible the soul of Taneji had been trapped within Terumoto's body, haunted him, or had completely taken over. Demiyah cared Terumoto until he was recovered. [2]
Acting Leader
Edit
Demiyah became de-facto leader of her family, until Terumoto would take his duties properly. Several events had led the Otomo in a difficult position. Not only the illness of her Lord, but also the Crane and the Scorpion had allied to undermine the Otomo in Court. And it was expected the Emperor Iweko Seiken would dismantle the Imperial Bureaucracy, which was mainly manned by the Otomo. Working in close contact with Otomo Hisoka and Otomo Mizuki, Demiyah began to plot against the Scorpion, for their insult at Winter Court. [3] Mizuki pondered with Demiyah if she was acting out of desire for self-advancement. [4]
Iweko II
Edit
Demiyah was reported that the Ancestral Sword of the Hantei had been stolen by the Mantis Clan from an Otomo caravan, with only one survivor. [5] Enraged, Demiyah brought these news to the new Emperor Iweko II, and warned him that where the Great Clans were truly united, they threatened the Imperial Throne. Iweko Seiken rebuked Demiyah, and told her that his first act as Emperor would be to begin the dismantling of the Imperial Bureaucracy. [6]
Rise of Jigoku
Edit
In 1200 the rebellious Spider Clan had stormed Toshi Ranbo, but Daigotsu Kanpeki had failed to find and kill the Emperor Iweko II, leaving the Imperial City shortly after. The Crab Clan Champion Hida Kisada blamed that the Spider forces had vanished before the assembled Rokugani armies would engage them. The Phoenix revealed the location of the Third Seal, which was eventually destroyed by an endless horde of Shadowlands creatures. The Mantis Islands fell and the Rise of Jigoku was unleashed. [7]
External Links
Edit
References
Ad blocker interference detected!
Wikia is a free-to-use site that makes money from advertising. We have a modified experience for viewers using ad blockers

Wikia is not accessible if you've made further modifications. Remove the custom ad blocker rule(s) and the page will load as expected.