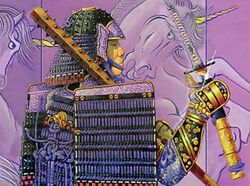 Otaku Baiken was a bushi and Otaku Infantry sergeant of the Unicorn Clan.
Baiken was an able commander of Unicorn infantry units with an amazing perception on the battlefield. He was an excellent leader with a keen eye for danger who took good care of his troops. His concern for his unit bolstered their loyalty. [1]
Clan War
Edit
Baiken followed Otaku Kamoko in his journeys. [2]
See also
Edit
External Links
Edit
Otaku Baiken (Anvil of Despair)
References
Ad blocker interference detected!
Wikia is a free-to-use site that makes money from advertising. We have a modified experience for viewers using ad blockers

Wikia is not accessible if you've made further modifications. Remove the custom ad blocker rule(s) and the page will load as expected.