Orochi
Talk

0
18,900pages on
this wiki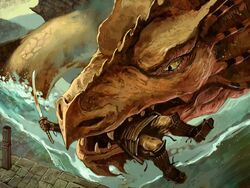 Orochi were monstrous sea serpents originally from Sakkaku, the realm of trickster spirits. [1]
Servitude
Edit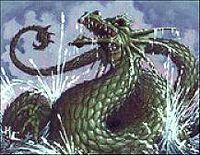 Orochi leader Ryujin made a deal with the Ningyo, [2] invoking his vengeance upon any who harmed his people. Orochi kept any ship they sunk, along with the souls of those aboard them. they made massive ship graveyards, haunted by the spirits of wicked sailors. [3]
Alliance with the Ningyo
Edit
The humorless orochi had grown tired of the endless pranks and nonsense of their brethren, and wished for safe haven in the Mortal Realm. The ningyo agreed to let the orochi share their cities, and in return the orochi promised to always protect the ningyo from harm. [4] In this way the more powerful orochi found a way to escape into the mortal realm. They were massive leviathans that guarded the ningyo cities well. [2]
Alliance with the Mantis Clan
Edit
Many other orochi remained trapped in Sakkaku. [2] Being rather slow-witted, they were the unfortunate victims of most of the pranks of the other denizens of the realm. After Tsurayuki came into contact with two Mantis Clan samurai trapped in Sakkaku, Tsuruchi Ki and Moshi Minami, the Orochi made a pact with them, where in exchange for binding the Orochi's spirit with the souls of worthy Mantis samurai the Orochi would lend their strength when the Mantis needed it, and allowed them to return to Ningen-do. [5] They were used by the Mantis Clan in the War of Fire and Thunder. [6]
Side effects
Edit
Minami no longer was able to speak with the kami, and the Mantis shugenja refined Minami's spell and made it safe for further experimentation. On it worked Yoritomo Kaigen [7] and the master summoner Komori, Lord of the Bat Clan. [2]
The Nezumi
Edit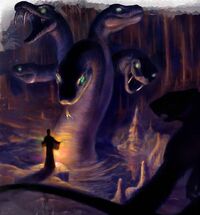 The nezumi discovered the relationship between the orochi and the Mantis, but they did not trust the sea creatures for unknown reasons. [8]
War of Fire and Thunder
Edit
The orochi Storm Riders gave the Mantis supremacy over the Phoenix near the coastline in the War of Fire and Thunder. In 1167 the Master sensei of the Storm Riders noticed the marine serpents were moving sluggishly. He feared that it might be a result of the colder weather, which the serpents might not have experienced in their home realm. [9] The Orochi Riders fallen out of favor for that drewback. [10]
Wild Orochi
Edit
In 1172 a portal to Sakkaku was opened during the Destroyer War. The Orochi which appeared from it were destroyed by Mantis and Dragon forces, but a few escaped into the sea. [11] More Orochi attacking ships were seen in 1198, during the War of Serpents. In this time the raiders were the Dark Naga. [12]
Known Orochi
Edit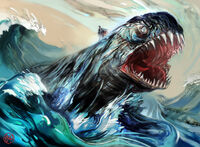 See also
Edit
External Links
Edit
References