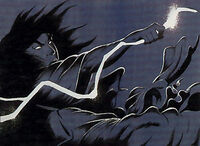 The Oracle of Thunder was the representative of the Dragon of Thunder in Rokugan, and over the years was many different people.
Tonbo Toryu
Edit
Tonbo Toryu was the Oracle of Thunder until Isawa Kaede disrupted the Celestial Balance and he was forced to become the Dark Oracle of Void to regain the balance. [1]
Togashi Mitsu
Edit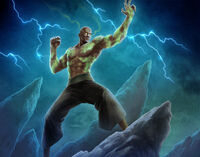 The position of Oracle of Thunder stood vacant for many years [1] until it was filled by a hero from the Clan War, Togashi Mitsu. In 1167 he was presented at the Imperial Court in Toshi Ranbo. [2] He resided in a temple in the Crane lands, spending his time in meditation. [3]
Known Oracle of Thunder
Edit
External Links
Edit
References
Ad blocker interference detected!
Wikia is a free-to-use site that makes money from advertising. We have a modified experience for viewers using ad blockers

Wikia is not accessible if you've made further modifications. Remove the custom ad blocker rule(s) and the page will load as expected.