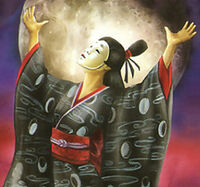 The Oracle of Obsidian was the representative of the Obsidian Dragon in Ningen-do. He was a mortal who posessed the required virtues: propensity for vice and the capacity for greatness. [1]
Balancing the Celestial Order
Edit
The Obsidian Dragon came about to balance the creation of the Jade Dragon, and because the Jade Dragon, already blessed by Lord Sun, Yakamo, had an Oracle the Obsidian Dragon must also had one. The Obsidian Dragon first appeared before Isawa Angai and asked her to suggest who could become his oracle. [1] In 1168 Angai whispered the name of Shosuro Maru. [2]
Shosuro Maru
Edit
Shosuro Maru became the first Oracle of the Obsidian Dragon. Since she was elevated to this position it seemed she had been informing her yojimbo, Bayushi Muhito, of sects worshipping the former Lord Moon. She seemed to also had begun taking interest in people who struggled with vices. [3] She left her post as oracle when she became the Voice of the Obsidian Moon. [4]
Known Oracle of Obsidian
Edit
References
Ad blocker interference detected!
Wikia is a free-to-use site that makes money from advertising. We have a modified experience for viewers using ad blockers

Wikia is not accessible if you've made further modifications. Remove the custom ad blocker rule(s) and the page will load as expected.