The Oracle of Jade was the representative of the Dragon of Jade on Rokugan.
The First Oracle of Jade
Edit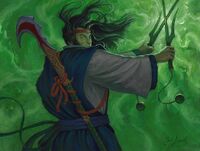 The first Oracle of Jade was in 1159 the witch hunter known as Omen. His original name, Kuni Kiyoshi, was erased by Te'tik'kir. [1]
The Oracles left Ningen-do
Edit
In 1160 the Oracles of Light decided to retreat from the Mortal Realm for a time, to watch the people of Rokugan from the Celestial Heavens. Only the Oracle of Jade remained among the people. [2]
New avatar
Edit
In 1170, after the Jade Dragon became the new Sun, [3] Omen gained a new identity, the Voice of the Jade Sun. [4]
Known Oracle of Jade
Edit
References
Ad blocker interference detected!
Wikia is a free-to-use site that makes money from advertising. We have a modified experience for viewers using ad blockers

Wikia is not accessible if you've made further modifications. Remove the custom ad blocker rule(s) and the page will load as expected.