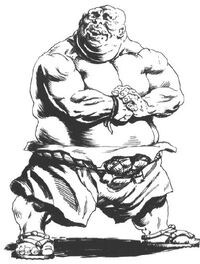 Onka, most known as Ample, was a ronin at Ryoko Owari Toshi.
Demeanor
Edit
He was a stupid man, with little control over his emotions. When he was angry he was difficult to calm. He was very strong, and very skilled in the jiujutsu attack known as the Two Way Throw. [1]
Ample was a heap of muscle and fat who sold his sword to any who paid for it. He worked for a gambler called "Lean Meat", [1] and for the city's Emerald Magistrate, Ashidaka Naritoki. [2] After Naritoki's death he moved from the Noble Quarter to the Crab Caves, but hoped he could move back as a magistrate's deputy. [3]
See Also
Edit
References
↑ City of Lies: GM's Guide, p. 44
↑ City of Lies: Location Guide, p. 8
Ad blocker interference detected!
Wikia is a free-to-use site that makes money from advertising. We have a modified experience for viewers using ad blockers

Wikia is not accessible if you've made further modifications. Remove the custom ad blocker rule(s) and the page will load as expected.