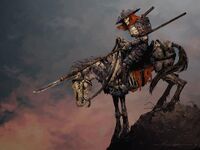 Onikage, "Demon Horses", were horses that died in the Shadowlands and rose again as undead monsters. Beheading prevents this. They were used by the Dark Moto as steeds. [1]
Appearance
Edit
Onikage had crocodile skin, sharp teeth and hooves, red eyes and an emanciated appearance. They emitted an "Onikage stink", which was a disgusting noxious smell that scares normal horses. Warriors who spend too much time in the Shadowlands could aquire this "Onikage stink", and animals, particularly horses, would be uncomfortable in their presence. [1] Most onikage encountered in the Shadowlands were wild and traveled in herds. However, they could be tamed like regular horses, and they were extremely loyal to its rider. [2]
Breeding
Edit
Crab learned better than to use horses in the Shadowlands and because of this, there was a slight shortage of onikage for a time. With the march to Oblivion's Gate in 1133, when samurai from all clans marched through the Shadowlands, the shortage had ended. Under the leadership of Daigotsu, the Lost bred onikage in the City of the Lost. [3]
See Also
Edit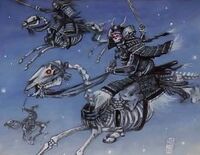 External Links
Edit
References
↑ Enemies of the Empire, p. 232
↑ Creatures of Rokugan: Third Edition, p. 146
Ad blocker interference detected!
Wikia is a free-to-use site that makes money from advertising. We have a modified experience for viewers using ad blockers

Wikia is not accessible if you've made further modifications. Remove the custom ad blocker rule(s) and the page will load as expected.