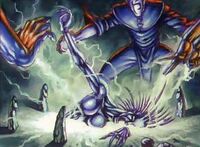 Oni Warding was a Mastery 6 earth spell which revoked an oni's physical form, forcing it to leave the material world and return to Jigoku. It was assumed that the Oni Lords were too powerful to be affected in such a manner. [1]
External Links
Edit
References
Ad blocker interference detected!
Wikia is a free-to-use site that makes money from advertising. We have a modified experience for viewers using ad blockers

Wikia is not accessible if you've made further modifications. Remove the custom ad blocker rule(s) and the page will load as expected.