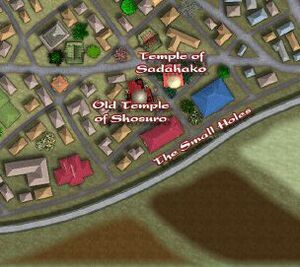 The Old Temple of Shosuro in the Temple Quarter of Ryoko Owari was one of the two temples in the city dedicated to the Thunder Shosuro, and it was crumbling almost into ruin. [1]
The ghost of Shosuro Kohei haunted the temple, and it was abandoned. A new temple was built to honor the founder of the Shosuro family. Kohei had committed seppuku within the old temple after he was convicted as member of a plot against the Scorpion Clan Champion Bayushi Jo. He had not betrayed his lord and when Kohei was dying in agony he swore his spirit would not rest until the stain was taken from his name. [2]
References
Ad blocker interference detected!
Wikia is a free-to-use site that makes money from advertising. We have a modified experience for viewers using ad blockers

Wikia is not accessible if you've made further modifications. Remove the custom ad blocker rule(s) and the page will load as expected.