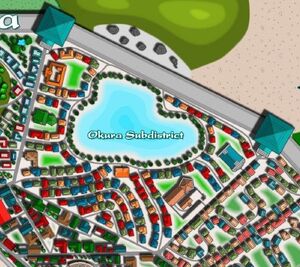 The Okura Subdistrict of Toshi Ranbo was part of the larger Senzai District. [1] It was named after Oni no Okura, the gatekeeper of Tengoku, had been rebuilt following the devastating fires and explosions that wracked the Imperial City in 1165. [2]
Renamed District
Edit
The district had been saved by the hero Akodo Ieshige, who was made Governor of the District he saved. Secretly, his actions had been bolstered by a blood-made creature he had encountered during the fires. Ieshige had made a deal with, in exchange for which he would rename the district the Okura district. [3] Ieshige was rarely in attendance and frequently left his administrative duties to his more skilled subordinates. [2] Created more for reasons of politics than any particular administrative need, it was likely that after Ieshige's death the sub-district would survive in name only, its administration returning to the Senzai District Court. [4]
References
Ad blocker interference detected!
Wikia is a free-to-use site that makes money from advertising. We have a modified experience for viewers using ad blockers

Wikia is not accessible if you've made further modifications. Remove the custom ad blocker rule(s) and the page will load as expected.