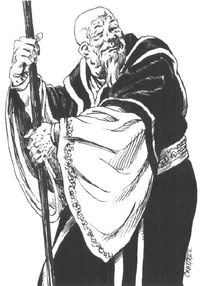 Okawa was the abbot of the Temple of Daikoku at Ryoko Owari Toshi. Jirohei was the monk tasked with the temple's finances. [1]
Okawa was a simpleton and an enlightened master, the city's greatest saint and its greediest charlatan. He used to speak in riddles annoying his guests. [2]
References
Ad blocker interference detected!
Wikia is a free-to-use site that makes money from advertising. We have a modified experience for viewers using ad blockers

Wikia is not accessible if you've made further modifications. Remove the custom ad blocker rule(s) and the page will load as expected.