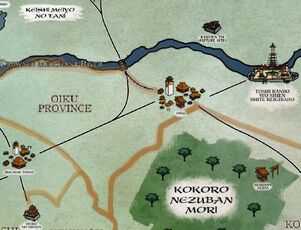 The village of Oiku (L5) in the Oiku province [1] served as a permanent military outpost from which the Lion Clan could move to defend Toshi Ranbo wo Shien Shite Reigisaho. Once used to attack the city, the large Lion force here now stood ready to come to the Emperor's aid. [2]
Lion-Crane War
Edit
During the Lion-Crane War four unsucessful attacks were made upon Toshi Ranbo from the city, two led by Akodo Arasou and the other two by the Lion Clan Champion Matsu Tsuko. These repeated failures gave the village a reputation for being cursed. [3]
Deserted
Edit
Oiku was virtually deserted. During the absence of the Akodo, it became a punishment station for disgraced bushi. The surrounding village fell into corruption and criminal activity, becoming a haven for the Coin Sect of the Kolat. [4]
Reinstated
Edit
In 1133 after the reinstatement of the Akodo, Akodo Ginawa appointed an Akodo governor and magistrates. In one year the criminal activity had been banished. However the Kolat foothold was not discovered. [4]
Blood Hunt
Edit
In 1166 the village was attacked and set to fire by bloodspeakers. The Lion garrison was quickly supported by his previous enemies, the Unicorn, who alongside with Shogun's and Imperial Legion's troops destroyed the menace. [5]
References