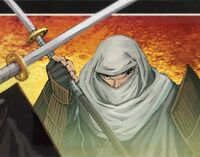 Ohaba was a monk kensai in the Order of the Spider of the Spider Clan.
Colonies
Edit
Ohaba as a member of the Order of Venom joined the dojo in the Second City. He was taught by sensei Togashi Osawa, alongside other sohei of the Spider, Asako monks and ise zumi. [1]
Blood of the Preserver
Edit
In 1198 the Togashi Daimyo Togashi Noboru and Kitsuki Jakuei investigated the reasons behind the Lion attacks to Spider encampments in the Colonies. Noboru questioned the Spider students, Nishimura, Ohaba, and Sutigu, but they refused to explain, and he even attempted to get words through a demonstration of force. After the three sohei were defeated, Jakuei inferred the Spider were hiding something. [1]
External Links
Edit
References
Ad blocker interference detected!
Wikia is a free-to-use site that makes money from advertising. We have a modified experience for viewers using ad blockers

Wikia is not accessible if you've made further modifications. Remove the custom ad blocker rule(s) and the page will load as expected.