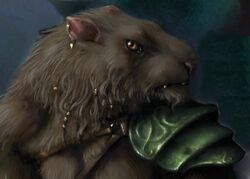 Oh-krch was a nezumi scout of the Broken Shinbone Tribe.
Battle at the Tomb
Edit
In 1168 the Emperor Toturi III had entered alone deep in the Shadowlands seeking the Tomb of the Seven Thunders during his quest for Enlightenment. Oh-krch was one of the nezumi scouts that guided the assembled rescue party. He fought in the Battle of the Tomb and returned alive with one of the artifacts of the Tomb, an hourglass. [1]
Tomorrow's Hourglass
Edit
Oh'krch brought the hourglass back to a nearby warren where it was presented to the Chief of Chiefs Kan'ok'ticheck and the shaman Atch-zin. The two nezumi examined the hourglass, which caused a tingling sensation when touched. Atch-zin concluded that it was Tomorrow, and the hourglass was therefore called Tomorrow's Hourglass. Kan'ok'ticheck and Atch-zin both had a disturbing experience with the hourglass but would not tell what it was. [1]
External Links
Edit
References