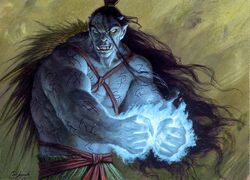 Ogre Mages were Ogres with macig abilities. Ogre females tended to show talent for magic, and were often called hags. [1]
Free Ogres
Edit
Those Free Ogres which slowly remembered how to carve sigils in their skin were able to summon forth magical powers. They could cast elemental spells but Void, although they tended to favor Fire due to its destructive nature. [2]
Known Technique
Edit
See also
Edit
External Links
Edit
References
Ad blocker interference detected!
Wikia is a free-to-use site that makes money from advertising. We have a modified experience for viewers using ad blockers

Wikia is not accessible if you've made further modifications. Remove the custom ad blocker rule(s) and the page will load as expected.