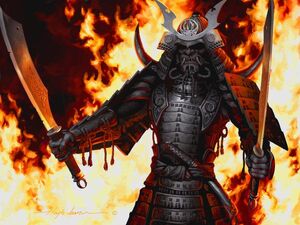 The Obsidian Magistrate were graduated in the Obsidian Magistrate Dojo. Their purpose was merely to act as enforcers of Daigotsu's will and punished those who violate his commands. [1] The Dark Lord had created an ideology and a set of laws with which to rule his own empire, and the Obsidian Magistrate acted as the dark mirror of the Emerald Magistrate. [2]
Otosan Uchi
Edit
In 1159 the Obsidian Magistrates were a part of Daigotsu's horde which assaulted the Imperial City in the Fall of Otosan Uchi. [3]
Known Techniques
Edit
External Links
Edit
References
Ad blocker interference detected!
Wikia is a free-to-use site that makes money from advertising. We have a modified experience for viewers using ad blockers

Wikia is not accessible if you've made further modifications. Remove the custom ad blocker rule(s) and the page will load as expected.