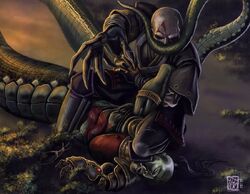 The Obsidian Claw Duelists were tainted members of the Spider Clan or the Lost before the clan's founding who specialised in dueling not with blades, but with their Blackened Claws, which the Taint had given them, the form of duel known as Test of Obsidian Claws. [1] The sensei of the Daigotsu's Legion school were under orders to discourage the practice. [2]
Known Technique
Edit
Known Obsidian Claw Duelists
Edit
References
Ad blocker interference detected!
Wikia is a free-to-use site that makes money from advertising. We have a modified experience for viewers using ad blockers

Wikia is not accessible if you've made further modifications. Remove the custom ad blocker rule(s) and the page will load as expected.