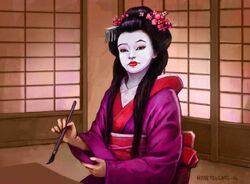 Oboro, the Liar, was an artisan, geisha and member of the Kolat Silken Sect. She was also known as Hazy. Oboro was a soft-spoken, imperturbable charact who embraced an atmosphere of serene womanly adulthood, a truly timeless beauty. Many samurai found her soothing, although her rivals believed there was a soul of steel beneath the gentle exterior. Oboro was particularly skilled at painting and calligraphy. [1] She eventually was under the command of Master Roc, and the House of Loose Silk was one of the covert kolat strongholds. [2]
External Links
Edit
References
Ad blocker interference detected!
Wikia is a free-to-use site that makes money from advertising. We have a modified experience for viewers using ad blockers

Wikia is not accessible if you've made further modifications. Remove the custom ad blocker rule(s) and the page will load as expected.