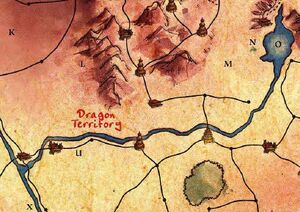 The Drowned Merchant River (U) marked the border between the lands of the Dragon and Lion Clans. [1]
The river was borne in the Iron Rings Cascade, streamed between the Dragon and the Phoenix lands, flowing from East to West between the Lion and Dragon lands, until it reached the Three Stone River beside the City between the Rivers in Unicorn lands. [2] The river was navigable between Toshi Ranbo and the trade center at the City of the Rich Frog. [3]
Border Divide
Edit
The river itself did not technically divide the Lion and Dragon, as between them lived the Dragonfly Clan. Some had argued that the river had been party to protecting the Dragonfly from any vengeful Lion attacks, as any troops crossing the river would be delayed long enough for the Dragon to mount a sturdy defense. The foothills of the Dragon Mountains could be seen all the way from the southern Lion river-bank. [4]
Legend of it's Name
Edit
This was where, legend had it, in the 9th century a group of bandits attacked a prominent merchant and tortured him and his family, eventually drowning them in the river. Local peasants said the ghosts of the family haunted the banks of the river, looking to exact vengeance on the bandits who drowned them.[5] It was said that caravans who dared to camp nearby saw two boys and two girls coming to the ghost of the merchant and his wife, but disappeared before they gathered together. The ghost begged to find his family's butchers so he they finally rest in peace. It was an impossible task, because the murderers were dead long time ago. [6] Some claim the ghost of the merchant still haunts the area, murdering the guilty. While most noblemen pay no heed to such a superstition, many among the peasant caste claim the ghost is responsible any time bandits are found torn to ribbons along the river.[4]
References
Ad blocker interference detected!
Wikia is a free-to-use site that makes money from advertising. We have a modified experience for viewers using ad blockers

Wikia is not accessible if you've made further modifications. Remove the custom ad blocker rule(s) and the page will load as expected.