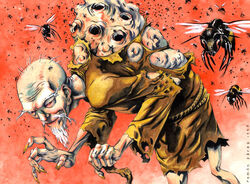 Obake were men who have been vile and hateful, and somehow managed to cheat death. They began to change, their flesh attracted wasps, which burrowed into their backs and formed bulbous hives. [1]
Appearance
Edit
The obake appeared as a spindly old man with ragged clothes covering a grotesque hump on his back. Always alone, he walked with a painful hunch and usually carried a cane or staff. He would often rudely demand food or money from passersby, cursing and scolding any who refused. [2]
See also
Edit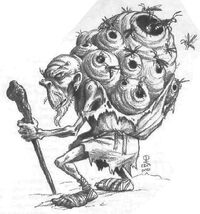 External Links
Edit
References
Ad blocker interference detected!
Wikia is a free-to-use site that makes money from advertising. We have a modified experience for viewers using ad blockers

Wikia is not accessible if you've made further modifications. Remove the custom ad blocker rule(s) and the page will load as expected.