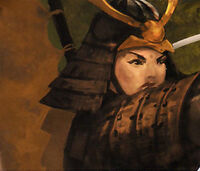 O-Yoroi were Heavy Armor worn by samurai and elite troops, [1] actually an adaptation of riding armor for samurai fighting on foot. It was made from lamellar plates of metal, usually iron, bronze, or copper, and held together with silk lace and canvas. Lighter, less-complete suits of o-yoroi that were simply referred to as yoroi. After the Battle of White Stag, yoroi-sei began to incorporate more iron into their suits, and the do was redesigned as a tunic that hung off the shoulders. [2]
External Links
Edit
References
Ad blocker interference detected!
Wikia is a free-to-use site that makes money from advertising. We have a modified experience for viewers using ad blockers

Wikia is not accessible if you've made further modifications. Remove the custom ad blocker rule(s) and the page will load as expected.