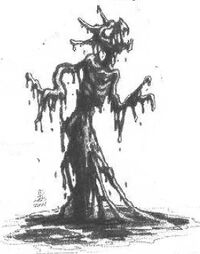 Nukarumi were disembodied spirits of the Shadowlands creatures destroyed in a battle in the Shadowlands Marshes of Shinomen, deep within the Shinomen Mori. [1]
In that place in the year 815, [2] Naga Pearl Magic was used to destroy the shadowlands beasts. The Naga magic reduced many of their enemies to a viscous ichor that seeped into the ground, corrupting it. In this way it was created the Shadowlands Marshes of Shinomen. [1]
The Nukarimi were bounded to the marsh by powerful Naga wards, forever trapped within its confines. They manipulated the sludge to assume a crude and malleable physical form of sorts. [3] Nukarumi forced an opponent to the ground, then engulfed him with the sludge until he drowned. [2]
See also
Edit
References
↑ Creatures of Rokugan p. 53
Ad blocker interference detected!
Wikia is a free-to-use site that makes money from advertising. We have a modified experience for viewers using ad blockers

Wikia is not accessible if you've made further modifications. Remove the custom ad blocker rule(s) and the page will load as expected.