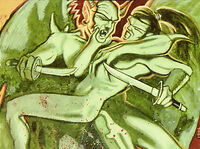 Not This Day! was a spell keyed to specific individual, and the scroll was written in that person's blood, who willingly gave it. When cast, the target became with his doom and gave his life for the sake of the family name. It was not a maho spell, because the scroll did not need the blood to power it; it simply needed it to key itself to the individual. [1] [2]
Not This Day! was the spell cast by Morito Tokei in 1128 to banish The Maw when the Oni Lord was assaulting Nanashi Mura. [3]
External Links
Edit
References
Ad blocker interference detected!
Wikia is a free-to-use site that makes money from advertising. We have a modified experience for viewers using ad blockers

Wikia is not accessible if you've made further modifications. Remove the custom ad blocker rule(s) and the page will load as expected.