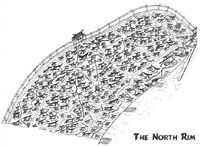 The North Rim was one of the neighborhoods of the Fisherman Quarter at Ryoko Owari Toshi.
The corrupted Moment's Edge Firemen kajinin were responsible for fire fighting. [1]
Notable locations
Edit
Northwest Dock: the dock was not very deep and it was specialized in more expensive items.
Fisherman's Gate: it was used to sell the fishermen's wares to the farmers on the countryside nearby, and by farmers moving their goods into the city. [2]
Madame Yakkoku's: located in the path between Fisherman's Gate to Teak Street. It was the house of Yakkoku.
References