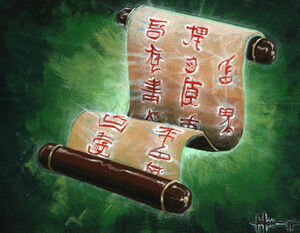 Norikazu's Ravings was a record of Isawa Norikazu prophecies, made in 1129, in the month of the Tiger. [1]
Excerpts
Edit
In the dark the shadows wait, the winds of war rise beneath the bloody hands of the living, and nothing can save us. Only nothing, ever nothing...nothing and nothing alone. [2]
When darkness falls over the Empire, two men will ride forth to save it. One man will find his master and the other will kill him. [1]
It will come. it is coming...and the moon will flee, and the stars will scream, and the world will brace for another beginning... [3]
The Moon shall die, but another must rise in its place. Twenty seven days will pass, and then there shall be a great darkness... [4]
The Splendid Emperor will die by his own hand. [1]
Together we shall stand on the brink of forever and see the destruction of all we hold dear. With the loss of an Emperor, the world shall right itself and all shall be made clear. [5]
"The souls of the betrayed shall find no rest. Enslaved, destroyed, and unnamed, they will walk the land of the living. On the edge of Jigoku, the Darkness moves." [6]
"The Age of Man ends in war and in death." [7]
"Blood seeks blood, that born from the fires of despair. The iron hammer shall shatter the hidden city, and Isawa's children shall burn."
"In the end, the Lion will stand divided. One will guard the path, one will journey into the Shadow, and both will bow to another name." [9]
"The Sun and the Moon must die; the throne itself will be consumed. From the flames, a lost Emperor will be returned." [10]
The future is not certain. We change it with every breath we take. Remember this when the Nothing comes. (Last line of the Ravings) [11]
"Henshin, beware. Your time is near." [12]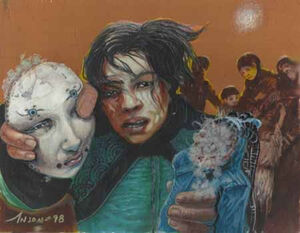 Doom of the Brotherhood
Edit
The monks of Shinsei sought a new prophet, a new path. They would be fooled by their own pride, and in the end, they would forsake the Tao itself. [13]
External Links
Edit
References
Ad blocker interference detected!
Wikia is a free-to-use site that makes money from advertising. We have a modified experience for viewers using ad blockers

Wikia is not accessible if you've made further modifications. Remove the custom ad blocker rule(s) and the page will load as expected.