Noekam was an Undead Zombie Commander.
Keeper of the Tomb
Edit
Noekam during the War of Spirits period noted the Keeper of the Tomb hoarded the bones of the dead like jewel, but he did not know to what purpose. [1]
Carpenter Wall Falls
Edit
Noekam fought in the attack to the Kaiu Wall in 1159. [2]
City of the Lost
Edit
In 1160 Daigotsu knew the Four Winds were gathering at Kyuden Seppun by the Oracle of the Void, to march against the City of the Lost, as the Dark Oracle of Void foresaw to the Dark Lord. Noekam was prepared for the battle. [3]
Iuchiban
Edit
In 1165 Iuchiban walked again Rokugan, defeated Daigotsu and took the City of the Lost. Noekam was loyal to the Dark Lord and went to the Burning Sands with him and Katsu. There the Oracle's son was obliged to undergo the same ritual that created Iuchiban and became a khadi, and Daigotsu truly saw how the ritual was. [4]
Age of Conquest
Edit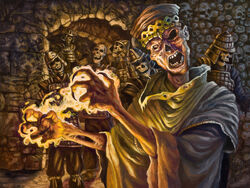 Noekam still was fighting the Empire during the Age of Conquest. [5]
External Links
Edit
References
Ad blocker interference detected!
Wikia is a free-to-use site that makes money from advertising. We have a modified experience for viewers using ad blockers

Wikia is not accessible if you've made further modifications. Remove the custom ad blocker rule(s) and the page will load as expected.