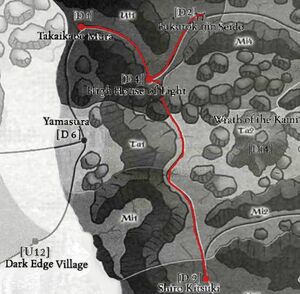 No Road connected Takaikabe Mura (D1) to the High House of Light (D4), and the High House to Fukurokujin Seido (D2) and Shiro Kitsuki (D9). There were no organized roads towar Kyuden Togashi, as there were a series of mountain paths, relatively clear passes, and mountain areas that could be climbed. Members of the Three Orders referred to these paths as "No Road". [1]
References
↑ Secrets of the Dragon, p. 67
Ad blocker interference detected!
Wikia is a free-to-use site that makes money from advertising. We have a modified experience for viewers using ad blockers

Wikia is not accessible if you've made further modifications. Remove the custom ad blocker rule(s) and the page will load as expected.