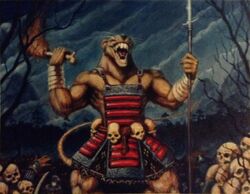 Nir'um'tuk was a nezumi scout of the Crooked Tail Tribe.
Crooked Tail Tribe
Edit
The Crooked Tail lived near a mountain of crystal, called Drawing-Out-Darkness-Rock. [1] He claimed his armor was taken from an Ogre. [2] Nir'um'tuk liked a nezumi mate, Kan-chet. [1]
Nezumi Conflicts
Edit
When Asako Hirariko and Yoee'trr were traveling through the Shadowlands they came upon the remains of the Tattered Ear Tribe which had been attacked by another nezumi tribe. Both were taken by the Crippled Bone Tribe led by Nir'um'tuk to see the shaman Te'tik'kir. Yoee'trr's deductive reasoning led the gathered nezumi to understand that an unknown tribe of nezumi, who were no longer nezumi, had been behind the attack on the Tattered Ear. [3]
Stained Paw
Edit
Nir'um'tuk followed the Rememberer Chin'tch of the Crippled Bone Tribe deep in the Shadowlands. They met Mat'chek of the Stained Paw Tribe. Nir'um'tuk told Mat'chek a story of Crooked Tail and how they fought the Lying Darkness. [1]
When the Lying Darkness came to eat the world's Name many Nezumi fell, lost their face, lost their Name. Crooked Tail did not fall because Drawing-Out-Darkness-Rock protected them. Instead to stand by and let other tribes died to rule what would be left they could only see Nezumi. No more could see enemy tribes, thieving Grasping Paw thief or slimy Chipped Tooth. They could only see Nezumi, could only help Nezumi to survive. The Crooked Tail let all tribes gather under their rock to burn the Darkness away, and the Nezumi survived.
External Links
Edit
References
Sources Conflict
The sources relating to this article are in conflict with each other.
The Nir'um'tuk CCG card claims Crooked Tail Tribe but Killing Tomorrow fiction claims him as leader of the Crippled Bone. In Season of the Ratling: Remember is Crooked Tail. I choose Crooked now
Ad blocker interference detected!
Wikia is a free-to-use site that makes money from advertising. We have a modified experience for viewers using ad blockers

Wikia is not accessible if you've made further modifications. Remove the custom ad blocker rule(s) and the page will load as expected.