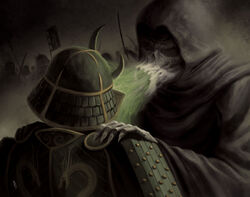 Ninube Shiho was a tainted ninja and shugenja of the Spider Clan known as the Unmaker.
Following an Immortal Nezumi
Edit
In the Colonies Shiho witnessed an incident which involved a slumbering Ashalan and a nezumi, known as Br'nn. The ratling had earned a blue tattoo-like mark on his arm, and somehow regained his youth. Shiho had been following the nezumi since that event, and had observed how Br'nn had traveled throughout the Empire and beyond, to call for a gathering of the last members of his race in the Shinomen Mori, in 1199. Shiho unmade a young nezumi female, and in his new guise, joined the nezumi to learn more. [1]
External Links
Edit
Cite error: <ref> tags exist, but no <references/> tag was found