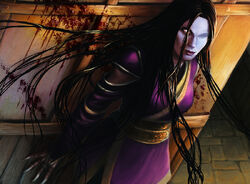 Horiuchi Onchi joined the Spider Clan as a tainted shugenja known as Ninube Onchi.
Demise of the Horiuchi
Edit
Horiuchi Onchi was trained with the Iuchi Shugenja. She had returned to visit her family in 1171 when the plague broke out in Horiuchi lands. Empress Iweko I sanctioned the torching of all Horiuchi lands, including the death of those still in that territory. One of her friends revealed as a Ninube, and Onchi pledged herself to the Ninube to save her life. [1]
Colonies
Edit
During the Age of Conquest Onchi went to the Colonies and became one of the Imperial Explorers. [2]
Spying the Crab
Edit
Her lord Daigotsu Kanpeki ordered Onchi to spy upon Kuni Renyu, [3] the Kuni Daimyo and interim Imperial Governor of the Colonies.
See also
Edit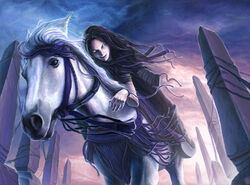 External Links
Edit
References
Ad blocker interference detected!
Wikia is a free-to-use site that makes money from advertising. We have a modified experience for viewers using ad blockers

Wikia is not accessible if you've made further modifications. Remove the custom ad blocker rule(s) and the page will load as expected.