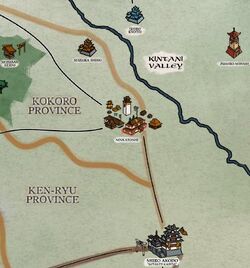 Permission City (L9) in the Kokoro province [1] was once a farming village, but since the Clan War it was transformed into a military outpost for battles with the Crane by the Lion Clan Champion Matsu Tsuko. [2] Even in times of peace the Lion maintained a strong military presence here. It was considered an honor to recieve this appointment, and only the most skilled officers and valiant bushi were considered to be stationed here. [3]
Clan War
Edit
When Shiro no Yojin fell to the Daidoji after the Clan War, Ninkatoshi-based troops reclaimed the city in a few months' time. [4]
Lion-Crane Alliance
Edit
In the second half of the 12th century the ancestral enemies brokered an alliance after the Lion returned Toshi Ranbo to the Crane. Ninkatoshi's military importance was reduced to almost nothing. The city became the home of a bold experiment, a dojo simply called the Feathered Claw Dojo, manned by Crane and Lion alike. The military officer was a Lion, who acted as the city governor, while the second Chief officer was a Crane. [5]
Notable places
Edit
References