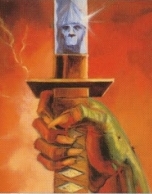 The Ninja-to was a ninja straight sword (rather than the curved blade of a katana, which was a superior design) forged of cheap metal. The metal was not folded and often double wedged, making it more useful as a spear or thrown weapon than a sword. A solid hit from a katana would shatter the ninja-to. [1]
Variants
Edit
The square tsuba on the weapon made it double for a grappling hook, once rope was attached, if need be. The handle of a ninja-to was often hollow, allowing storage or use as a blowgun. Attached to pole created a crude spear. [2]
External Links
Edit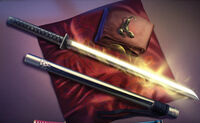 References
Ad blocker interference detected!
Wikia is a free-to-use site that makes money from advertising. We have a modified experience for viewers using ad blockers

Wikia is not accessible if you've made further modifications. Remove the custom ad blocker rule(s) and the page will load as expected.