Ad blocker interference detected!
Wikia is a free-to-use site that makes money from advertising. We have a modified experience for viewers using ad blockers

Wikia is not accessible if you've made further modifications. Remove the custom ad blocker rule(s) and the page will load as expected.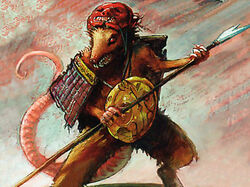 Nimm'k was a scout nezumi of the Grasping Paw Tribe
Lost and Kisada
Edit
In 1167 Nimm'k returned to the Shinomen Mori warren from Crab lands, to reporting to the Chief of Chiefs of the One Tribe, Kan'ok'ticheck, that Kisada was conducting meetings with Lost at Koten. Kan'ok'ticheck in turn warned the Crab that if they would not stop their relations with the tainted, then the nezumi would break their friendship with them. [1]
External Links
Edit
References